Uller Uprising
- H. Beam Piper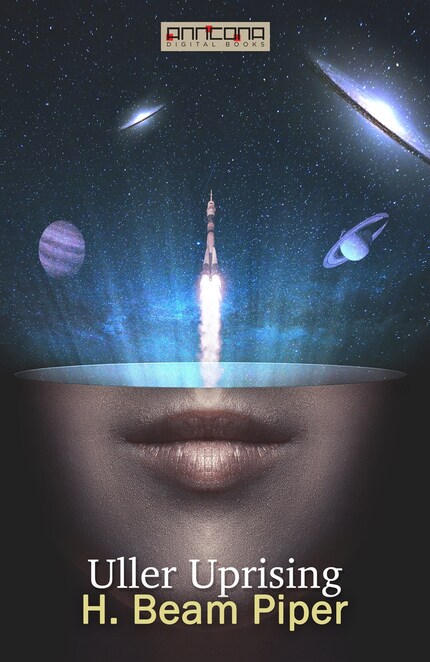 Sammendrag
Uller Uprising is a science fiction novel by H. Beam Piper first published in 1953.

Uller Uprising is the story of a confrontation between a human overlord and alien servants, with an ironic twist at the end.

"ZNIDD SUDDABIT!"

So the Ulleran challenge begins, with the rantings of a prophet and a seemingly incidental street riot. Only when a dose of poison lands in the governor-general's whiskey does it become clear that the "geeks" have had it up to their double-lidded eyeballs with the imperialist Terran Federation's Chartered Uller Company. Then, overnight, war is everywhere.

How it will end is in the (merely) two Terran hands of the new governor-general, a man shrewd enough to know that "it is easier to banish a habit of thought than a piece of knowledge." The problem is, the particular piece of knowledge he needs hasn't been used in 450 years....

Like most of Piper's best work, Uller Uprising is modeled after an actual event in human history; in this case the Sepoy Mutiny - a Bengal uprising in British-held India brought about when rumors were spread to native soldiers that cartridges being issued by the British were coated with animal fat. The rebellion quickly spread throughout India and led to the massacre of the British Colony at Cawnpore.

Piper's novel is not a mere retelling of the Indian Mutiny, but rather an analysis of an historical event applied to a similar situation in the far future.

Uller Uprising was also serialized in Space Science Fiction in 1952 under the title Ullr Uprising.

Henry Beam Piper (1904-1964) was an American science fiction author. He wrote many short stories and several novels. He is best known for his extensive Terro-Human Future History series of stories and a shorter series of "Paratime" alternate history tales. Piper's stories fall into two camps: stark space opera, such as Space Viking, or stories of cultural conflict or misunderstanding, such as Little Fuzzy or the Paratime stories.