The Castles of Athlin and Dunbayne
- Ann Radcliffe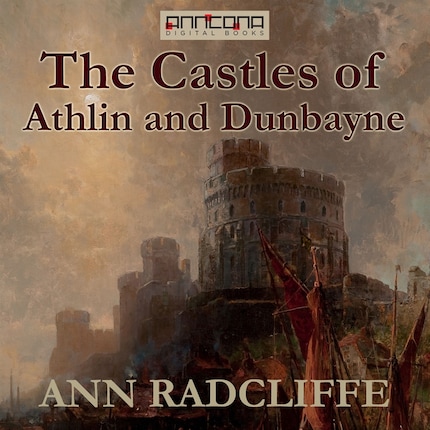 Sammendrag
The Castles of Athlin and Dunbayne - A Highland Story is a gothic novel by Ann Radcliffe.

The novel is a set in a powerful landscape which became familiar in her later work, with complex clan feuds and mysterious romantic intrigues played out against a backdrop of ruined medieval castles and rugged Scottish coastlines.

Each of the characters can be defined by their passions: The present Earl of Athlin, Osbert, is driven by a passionate desire to avenge his father's murder at the hand of Malcolm, the Baron of Dunbayne. His sister, Mary, is ever swooning and fainting in an attempt to resist her passion for Alleyn, a highlander not of noble birth (and therefore unworthy). Alleyn is likwise driven to heroic deeds of rescue because of his love for Mary. Even the villain, Baron Malcolm, is driven by his desire - first a desire to kill Osbert; it is later supplanted by his desire to possess Mary.

Although the passions of its leading characters dominate the plot, the castles of the title are as central to the narrative, establishing an enduring Gothic trope.

The Castles of Athlin and Dunbayne was first published in 1789. Audiobook read by Peter Tucker, running time 4 hours, 21 min. Unabridged full version. Also available as E-book: ePUB, 42,100 words, average reading time 3 hours, 30 min.

Ann Radcliffe (1764-1823) was an English author and a pioneer of the Gothic novel. Her style is romantic in its vivid descriptions of landscapes and long travel scenes, yet the Gothic element is obvious through her use of the supernatural

Ann Radcliffe is considered one of the founders of Gothic literature. While there were others that preceded her, Radcliffe was the one that legitimized the genre. Sir Walter Scott called her the "founder of a class or school". Jane Austen parodied Radcliffe's novel The Mysteries of Udolpho in Northanger Abbey.