Seven Footprints to Satan
- Abraham Merritt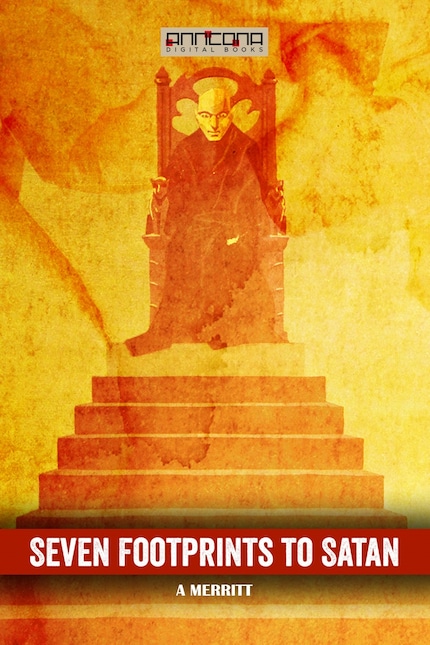 Sammendrag
Seven Footprints to Satan is a fantasy, horror novel by A. Merritt. Originally published as a magazine serial in 1927 in Argosy Weekly and as a novel in 1928.

Jim and Eve, a young society couple, are kidnapped on the eve of Jim's departure for Africa and brought to a mansion that is home to a strange and glamorous Satanic cult.
Women beyond compare, luxury without end, slaves of both sexes without number - all these were the incredible bait offered James Kirkham as he came to the throne of Satan. There, seven golden steps above him, sat the devil himself, Evil Incarnate, waiting for Kirkham to accept the hellish challenge. But to climb those seven steps meant a gamble – whose loss would be eternal torment!

When the young, handsome explorer finally dared those fateful steps to Satan's seat, there followed one of the eeriest and most powerfully dramatic adventures ever written. On Kirkham's daring depended not only a challenge to Hell itself but the life and love of the beautiful girl who had been pledged to him – but who was now enslaved by Satan!

Seven Footprint to Satan is A. Merritt's most famous mystery novel. A masterpiece of colorful drama, a tour-de-force of crime and cunning, a fantasy of great power, it has received the acclaim of of that vast audience who made the of the author of The Moon Pool, The Metal Monster and others, world famous.

Abraham Merritt (1884-1943), is one of the forgotten masters of weird fiction. His work ranges from horror (Burn Witch Burn) to epic fantasy (The Ship of Ishtar). His writing could be described as a blend of dark fantasy and the 19th century tale of adventure in the style of H. Rider Haggard, with a dash of the Conan Doyle of the Professor Challenger stories. Merritt's stories typically revolve around conventional pulp magazine themes: lost civilizations, hideous monsters, etc. His heroes are gallant Irishmen or Scandinavians, his villains treacherous Germans or Russians and his heroines often virginal, mysterious and scantily clad. What sets Merritt apart from the typical pulp author, however, is his lush, florid prose style and his exhaustive, at times exhausting, penchant for adjective-laden detail. Abraham Grace Merritt was inducted in The Science Fiction and Fantasy Hall of Fame in 1999, its fourth class of two deceased and two living writers.