Moby Dick
- Herman Melville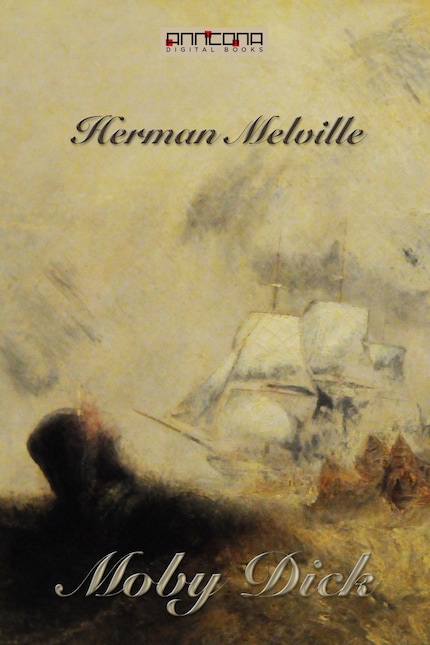 Sammendrag
Moby-Dick; or, The Whale (1851) is the sixth book by American writer Herman Melville. The work is an epic sea story of Captain Ahab's voyage in pursuit of Moby Dick, a sperm whale. A contemporary commercial failure and out of print at the time of the author's death in 1891, its reputation rose during the twentieth century. D.H. Lawrence called it "the greatest book of the sea ever written." Jorge Luis Borges praised the style: "Unforgettable phrases abound." Today it is considered one of the Great American Novels and a leading work of American Romanticism.

The opening line, "Call me Ishmael", is one of the most recognizable opening lines in Western literature. Ishmael then narrates the voyage of the whaleship Pequod, commanded by Captain Ahab. Ahab has one purpose: revenge on Moby Dick, a ferocious, enigmatic white whale which on a previous voyage destroyed Ahab's ship and severed his leg at the knee. The detailed and realistic descriptions of whale hunting and the process of extracting whale oil, as well as life aboard ship among a culturally diverse crew, are mixed with exploration of class and social status, good and evil, and the existence of God.

The novel has been adapted a number of times in various media including the stage, radio, TV, comics and graphic novels and movies. The most famous of these was the John Huston film of 1956 produced from a screenplay by author Ray Bradbury. These plays have varied from a stage version called Moby Dick! The Musical to a 2010 film adaptation of the same name.

Unabridged version including complete footnotes and biography. 214.668 words - 927 pages in the printed edition.

Herman Melville (1819-1891) was an American novelist, poet, and writer of short stories. His contributions to the Western canon are the whaling novel Moby-Dick (1851), the short work Bartleby, the Scrivener (1853) about a clerk in a Wall Street office, the slave ship narrative Benito Cereno (1855), and Billy Budd, Sailor. When asked which of the great American writers he most admired, Vladimir Nabokov replied: "When I was young I liked Poe, and I still love Melville, whom I did not read as a boy."