Eve and David
- Honoré de Balzac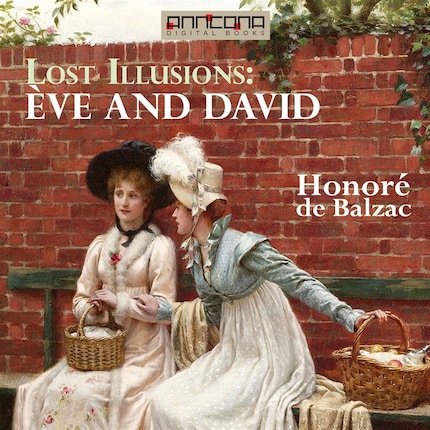 Sammendrag
Eve and David (1843) is the final book in Balzac's Lost Illusions trilogy, which is part of his sweeping set of novels collectively titled La Comédie Humaine.

The story is set in post-Napoleonic France. In the first volume of the trilogy (Two Poets, 1837), we met Lucien Chardon, an aspiring poet frustrated by the narrowness of provincial life.

In the second volume (A Distinguished Provincial at Paris, 1839) Lucien, using the more aristocratic-sounding surname "de Rubempré," left his family in order to seek fame and fortune in the literary world of Paris. By the end of that book, he faced imminent emotional and financial collapse.

In this present volume, the reader is returned to the provincial town of Angoulême, where Lucien's sister Ève and her husband, Lucien's friend David, have been struggling to keep their small printing shop afloat, in the face of treacherous competition. Their situation is complicated when Lucien's distress spills over into their lives.

In many references parts one and three are combined under the title Lost Illusions and A Distinguished Provincial at Paris is given its individual title. Following this trilogy Lucien's story is continued in another book, Scenes from a Courtesan's Life.

Balzac's work was hugely influential in the development of realism in fiction. The Lost Illusions trilogy is one of his greatest achievements, and is named in the reference work 1001 Books You Must Read Before You Die.

Total Running Time (TRT): 8 hours, 18 min.

Honoré de Balzac (1799-1850) was a French novelist and playwright. His magnum opus was a sequence of short stories, La Comédie humaine. Many of Balzac's works have been made into or have inspired films, and they are a continuing source of inspiration for writers, filmmakers and critics.

Before and during his career as a writer, he attempted to be a publisher, printer, businessman, critic, and politician; he failed in all of these efforts. La Comédie humaine reflects his real-life difficulties, and includes scenes from his own experience.