Beasts, Men and Gods
- Ferdynand Ossendowski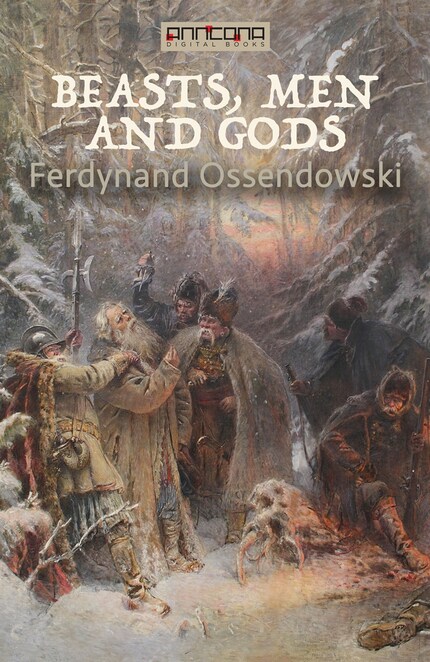 Sammendrag
Beasts, Men and Gods by Polish writer Ferdynand Ossendowski is a travel narrative first published in 1922.

"Beasts, Men and Gods" is an account of an epic journey, filled with perils and narrow escapes, in the mold of "The Lord of the Rings."

The difference is: it's all true.

The book is a fascinating account of his adventures and travels in northern Asia; Siberia, Mongolia, Tibet, and China, in an effort to flee the Red army of the Russian revolution.

Ferdynand Ossendowski was a Pole who found himself in Siberia and on the losing side during the Bolshevik Revolution. To escape being rounded up and shot, he set out with a friend to reach the Pacific, there to take ship back to Europe. During his journey he fell in with dozens of other military men who shared the same objective… but nearly every one of them perished on the way.

It's up to you to decide whether Ossendowski was threatened most by the beasts, by the men, or by the gods, or indeed, by the severe and uncompromising landscapes of Siberia, Mongolia, and China. That he survived at all seems improbable.

The mystical mysteries and magics of Buddhism, "The Yellow Faith", were woven about and through his sojourn and had no little part in his survival. Time after time he was put in the delicate position of being the bargainer between warring groups, and ultimately, only incredible luck and his friendship with the Hutuktu of Narabanchi Monastery saw him through.

When published in the United States, this book caused a sensation and became a best-seller.

Antoni Ferdynand Ossendowski (1876-1945) was a Polish writer, explorer, university professor, and anti-Communist political activist. He is best known for his books about Lenin and the Russian Civil War, a war in which he participated.

After the 2ndworld war, the new communist Soviet-led authorities of Poland issued a ban on all books by Ossendowski. Many of his books were confiscated from the libraries and burnt. It was not until 1989 that his books were again published openly in Poland.